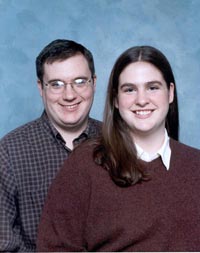 Hello, my name is Chris Kelley. Welcome to my little spot on the web. Like most computer guys, I have had a website for a while now. But I decided to clean it up, and put a little effort into it this time.

I graduated in December of 2001 with a B.S. in Journalism and a minor in Communications. Currently, I am enrolled at Kishwaukee College and am working on a Web Master certificate program.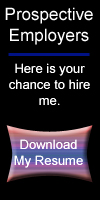 This is my little web playground. In my classes I am (and hope to continue) learning fun little things you can do on the web. Here is where I try them out. It's that simple. If you have any ideas or suggestions about anything, feel free to contact me.
The lovely lady sitting next to me is my fiance, Beth Stanton. I proposed in August of 2002 and sure enough, she said yes. No, currently we don't have a date set. Heck, we don't even have a state set. But we will let you know as soon as we can.
So, there you have it. I am working full-time at Document Services with NIU while both of us finish school. Then the plan is to move back to the Quad Cities and rent a house. That is pretty much it.
---
Just because I promised that you could learn everything you'd want to know about me on this website, here is some more information!
Full Name: Christopher Duane Kelley Birthdate: July 27, 1979 Family: Parents, David and Paula - and two sister. Becky Kelley and Nicole Babcock Occupation: Currently I work at Document Services in DeKalb, but I am looking to work for a newspaper in the Quad Cities Favorite movies: Contact Favorite actor: Either Edward Norton or Kevin Spacey Favorite actress: Can't think of one Favorite tv show: Simpsons, no question. But some of my other favorites are Conan O'Brien, The Andy Richter Show, and Inside the NFL on HBO Favorite type of music: Country Favorite artist: Garth Brooks and Colin Raye Favorite football team: San Francisco 49ers Favorite baseball team: Chicago Cubs Favorite type of food: Chinese Favorite store: This use to be Best Buy, but now I'd have to say it is American Favorite place in the U.S.: Colorado Favorite place outside the U.S.: I don't really know considering I've never really been out of the U.S. But I have always wanted to visit New Zealand and Switzerland Where do I see myself in 5 years: Working for the Quad City times and living somewhere in the Quad Cites with Beth. Where do I see myself in 10 years: Working for the Boston Hearld designing their Sports page and writing a weekly column on the NFL. Where do I see myself in 50 years: Retired and living in Colorado with Brett and Keith as my neighbors.