Walt Disney in Three Days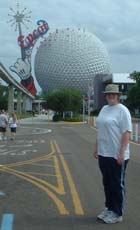 My advice to anybody who is thinking about taking a trip to Orlando is to do it in May. Walt Disney World was much better than I could have imagined it to be. I was expecting to go and wait at least 30 minutes per ride. Beth and I waited, at most, 15 minutes the entire time we were there.
We spent our first day at the Magic Kingdom, split day two up between MGM and Epcot, and finished with a day at the Animal Kingdom. They say you can't do Disney in three days, but we sure came close.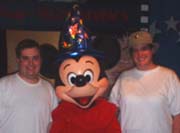 The lines were so short, and with the use of their "Fast Pass" system, we were able to go on every major ride in all the parks.
Our vacation moved on to Ft. Lauderdale after Orlando. We must have left the magic in Disney, because in Ft. Lauderdale, we had some car trouble. It turned out that we had about $550 worth of car repairs done. So, that kind of spoiled the last part of the vacataion, but we were able to do a nice dinner cruise while we were in Lauderdale.
Even though we had the car trouble, I'd say the vacation was better than expected. I would suggest to anybody going to Disney to go in May, USE THE FAST PASS SYSTEM, get park hopper tickets, and FLY!