Plenty of Autographs at SoxFest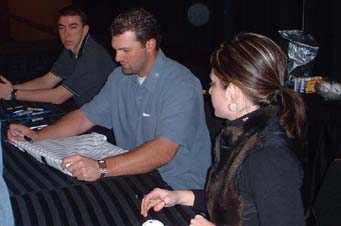 There's nothing like spending your Sunday standing in line. Motivated by boredom over the weekend, I decided to head into downtown Chicago and attend the Chicago White Sox, SoxFest. A list of players was posted on their website that would be there signing autographs, so I figured for the $15 admission price, you couldn't go wrong.
After arriving at about 9:00, I stood in line for about 45 minutes before they opened the door. Before I went in, I had planned on trying to get Frank Thomas' autograph. But I decided that it would take the majority of the time to get his, so I opted for Mark Buehrle and Billy Pierce. That way I could easily hop in line for Paul Konerko. (pictured above)
So that meant more standing in line. After the initial 45 minutes, it was another hour before I got Buehrle and Pierce. After their autographs I went right to the back of the line and waited another two hours to get Konerko.
It was about 1:00 p.m. when I got Konerko's autograph and was getting ready to leave. That is when I noticed in the other room that White Sox manager, Jerry Manuel, and General Manager, Ken Williams, were taking questions from fans. I figured they might sign a couple autographs on their way out, and I was right.
I was able to catch Manuel right before he was getting ready to leave.
After Manuel's autograph, I took a quick trip around the ball room and looked at all of the exhibits and booths that were set up. They had the usual pitching and hitting clinics and a few more people were signing autographs, but I figured it was time to go home.
You can only stand in line for so long.
Click here for more Fan Fest pictures
Chris Kelley