NEWS
The new wedding website is up! Click here to go and check it out!
---
Check out my movie reviews here.
---
Our address
125 W. 2nd St.
Coal Valley, IL 61240
(309) 799-3722
---
If you like this website, take a look at Keith Mundt's
The Wedding Page is UP
August 28th is sneaking up faster than ever and will soon be here. That's why I've created a wedding webpage. It has information about the wedding and about the area. I will be updating it on a regular basis with more information about Camp Awosting, driving directions from various points, and many things to do around the area for those who are making a vacation out out it.
Beth and I hope that you will be able to make it! We are trying to get a general idea of how many people to expect, so if you think that you might be able to attend the wedding, please let us know by calling us at (309) 799-3722 or by e-mailing us at ckelley03@yahoo.com.
Check out the wedding website and check back often for updates!
---
Happy 50th Birthday Dad!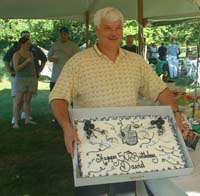 On Saturday, July 19 my dad celebrated a big accomplishment in his life - he made it to 50 years of age.
Since it is a milestone birthday, and my parents just moved into their new house in Andalusia, they decided to throw a party so people could come out and see their new place.
Friends and family started arriving at around 3:00, each with a dish to pass. By that time the two kegs were tapped and going fast.
After dinner, I managed to start a very nice fire (though slightly intoxicated). Some people sat around the fire, while others had fun in the horseshoe pits.
In the end, it was a very nice party. Here's to another 50 years!
© 2003 by Chris Kelley, All Rights Reserved
Questions and/or comments? Send them to ckelley03@yahoo.com
Last updated January 26, 2004