49ers Suffer Embarrassing Loss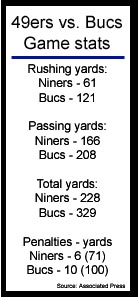 The one word that describes my reaction to the San Francisco 49ers loss to the Tampa Bay Buccaneers is embarrassing. I was one of the few fans that honestly thought the 49ers would win this game. At the very least, I felt that they would be able to be competitive.

During the week leading up to the game, the only weakness in the Bucs that was discussed was their inability to stop a strong running game. That seems like the smartest way to attack the number one defense in the league. But it didn't seem like the running game was the focal point of the 49ers offense.

One obvious reason for the lack of a running game was the fact that they fell behind early. But even at the start of the game, it was apparent that the Niners weren't planning on running too much, even though it seemed to work when they did.

Garrison Hearst and Kevan Barlow combined for 62 rushing yards on 13 attempts for an average gain of 4.8 yards per rush. Odds are if they ran the ball 25 times or more, they would have been able to control the clock, and kept the Buccaneers offense off of the field.

The playoff loss only adds fuel to the all ready burning controversy that 49er head coach Steve Mariucci is on his way out of San Francisco. I have been in Mariucci's corner all season, and still think that it is ridiculous that his job is on the line. But I have to say that Marrichi coached a bad game on Sunday.

How can you not try for points at the end of the first half? The 49ers had the ball on their own 40 yard-line, two timeouts, 40 seconds left on the clock and were down by 22 points. The offense only needed to gain about 25 yards to be in field goal range. If the 49ers would have gone into halftime with some momentum, it would have helped the effort the last half of the game.

One criticism that Mariucci usually receives is that his teams lack a killer instinct. This is the first time that I would agree with that statement.

CNNSI.com reported Sunday evening that Mariucci and 49ers owner, John York, will sit down on Tuesday to discuss the future of the 49ers. Mariucci has one year remaining on a five year deal. York has discussed his intentions to bring Mariucci back, but nothing is official yet.

Chris Kelley

Click Here to go back.